All Stories
54 UNSC virtual side event - StaTact as a free data project development & management tool: Workshop for development partners
Feb 10, 2023
Location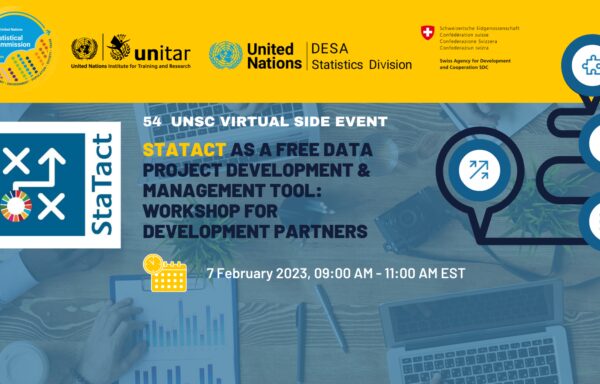 On 10 February 2023, UNITAR organized a virtual side event of the 54th session of the United Nations Statistical Commission entitled "StaTact as a free data project development & management tool: Workshop for development partners".
The workshop was organized in the format of a workshop for international organizations and other development partners – as well as National Statistical Systems they work with - around a participatory design of technical cooperation projects in the area of official statistics. The objective was to give a hands-on experience in using StaTact, and a space for development partners to discuss common challenges and best practices on technical cooperation in the area of official statistics.
With the registration for the event, participants were asked to share specific data areas where they face challenges. Based on the collected information, several measurement problems were pre-selected as case studies to facilitate the workshop. They were:
Environmental statistics (Ecosystem accounting)
Economic statistics
Social or gender statistics
Three working groups were created around the problems above and participants were invited to join the one of their preference. Each group further elaborated on the measurement problem to define the business case and went through the problem analysis by selecting the relevant SDG indicator and root cause analysis with the help of GSBPM and GAMSO. Other stages – action planning and implementation - of the tool were demonstrated to the participants so they could continue exploring after the event.
Overall most of the participants (79%) found the StaTact as a relevant tool for addressing data gaps/data planning and 76% as an effective tool in addressing data gaps/data planning. The user-friendliness of the tool was highlighted by 84% of the participants. More than 80% of the participants stated that they would apply the acquired knowledge and skills during the workshop.
The StaTact application remains available to interested agencies for free use following the workshop.