All Stories
Leveraging StaTact in Asia-Pacific Small Island Developing States
May 03, 2019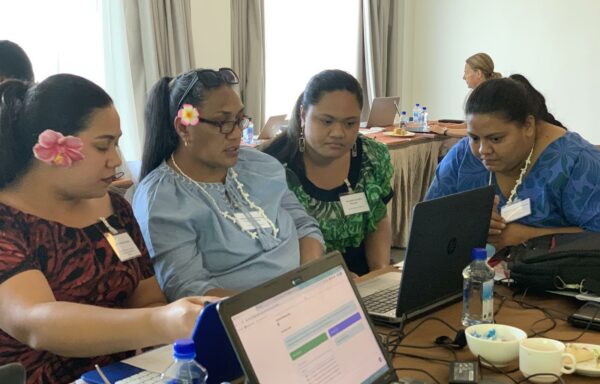 3 May 2019, Nadi, Fiji - Following its application by 16 countries, including Caribbean Small Island Developing States, StaTact has been successfully introduced to SIDS countries in the Asia-Pacific region during regional workshops that ran from 23 April to 3 May 2019 in Sydney, Australia, and Nadi, Fiji. The workshops are part of the one-year training programme aimed at strengthening the statistical capacities in the Asia-Pacific Small Island Developing States in the context of SDG monitoring requirements, and implemented in partnership with UN Statistics Division, Secretariat of the Pacific Community and UNESCAP. The programme benefits from the funding support of the Italian Government.
12 out of 14 Small Island Developing States in the Asia-Pacific region - Micronesia, Marshall Islands, Kiribati, Nauru, Timor-Leste, Maldives, Tuvalu, Vanuatu, Tonga, Samoa, Fiji, and Papua New Guinea - took part in these first workshops represented by 58 national participants, incl. 10 Government/Chief Statisticians and officers from National Statistical Offices, Planning and Finance Ministries and Departments, selected sectoral Ministries and NGOs. The workshops had a triple objective: to enable country groups to develop one realistic action plan to address a priority measurement issue over the next 6 to 12 months, to make the participants acquainted with the StaTact methodology and its web-based tool and to promote the sharing of good practices on data governance and concrete solutions to specific data gaps.
As a result of the workshops, 13 measurement-related action plans have been developed looking at various data sources, incl. administrative, and covering priority areas ranging from birth and mortality data, poverty, hardship, disability and child and gender-based violence measurement, to road infrastructure, trade and migration statistics, environmental data and broader data governance issues such as the acceleration of progress on mid-term statistical planning instruments. Another workshop outcome was increased awareness among other parts of Government about the importance of official data and the role of a National Statistical Office in supporting evidence-based decision-making.
The workshops have also provided an opportunity to collect feedback from the countries on how to strengthen StaTact and its monitoring component, as well as space for discussion on StaTact administration to ensure subsequent use by countries. Several follow-up missions will be organized to selected countries to help them refine the action plans and apply StaTact to other priority measurement issues.
As part of the StaTact experience, country participants were also offered an opportunity to take a preliminary e-learning course "Introduction to data governance for monitoring the SDGs" developed jointly by UNITAR and UN Statistics Division. The course aims to strengthen the awareness and knowledge around UN Fundamental Principles of Official Statistics, as well as good practices and practical approaches towards governing National Statistical Systems and promoting long-term and short-term planning. Its last module introduces specifically the main models and methodologies used in StaTact enabling workshop participants to engage more effectively during workshop phase.
The second component of the training programme scheduled for autumn 2019 will feature an e-learning and regional ToT workshops for the same group of countries to be implemented in partnership with UNSD, SPC, UNESCAP and relevant custodian agencies. This new series of workshops will aim to strengthen the technical knowledge and skills of officers from NSOs and relevant line ministries to compile selected SDG indicators to be defined based on the needs assessment and country feedback.